Autosport International
We have managed to secure a late deal for an ARCA stand at the Autosport show next week. More details to follow. If anyone would like to display their car on the stand and can deliver on Wednesday and collect it on Sunday we would be very grateful. This would include a pass to attend the show. To do so, the car would need to be running 2017 spec decals as detailed here. Please contact Paul Plant ([email protected]) for details.
2017 Competitor News
I have just had an exchange of e-mails with Anthony George who didn't race at all in 2016. Anthony's family business, Stonemanor, is based in Brussels and Suffolk, and following the terrorist activities in the Belgian capital a year ago life was somewhat unsettled.
"For most of 2016 Brussels was not a particularly busy or nice place to be"
The uncertainties following the Brexit vote have obviously posed more question marks but things have now improved to the point where Anthony can think of going racing again in 2017.
"We had quite good Christmas sales this year and with the exchange rate in our favour this also helped".
Which car he will use has not been decided. He has his extremely quick 156 Turbo but also the championship winning (2002 and 2005) 2 litre 33 16v which would be ideal for the PowerTrophy and could still win races overall.
Andy Robinson, who has now taken over Clive Hodgkin's role as BRSCC contact and become a Panel member, is hoping to do a full season. His 156 will have a supercharged 3.2 litre V6 engine, similar to that used by Graham Seager, replacing the more brittle normally aspirated 3.8. As usual, the whole project will be in the hands of Roger Evans at Peak Alfa.
It seems that Barry McMahon will be racing his 156 Turbo under the Advanced Motorsport banner with Britcar in 2017. Whether he will have time to do any races with ARCA remains to be seen.
Andy Page indicated in his Christmas Card that he hopes to do a race or two next season, much as he did in 2016 – we presume in the trusty Giulietta although we know that Andy harbours ideas of a replacement at some point in the future.
2017 registrations have been coming in this week and we're happy to welcome back the Twin Spark cars of Stacey Dennis (147), Jeremy Chilton (156), Richard Ford (156), Mike Tydeman (156) and defending Champion Tom Hill (156).
They will be joined by the Modified cars of Graham Seager (GTV), Andy Robinson (156), Neil Smith (156 WTCC) and an invitation entry from Roger Evans in his 8C engined Giulietta 4.2. We can't wait to see that!
Finally Ian Brookfield has entered the Power Trophy with an as yet unknown car. All to be revealed soon.
If you plan to race this year, registrations are open and we'd love to see you on track!
Lap record update
Elsewhere on the website, you will find that we have updated the list of lap records. I think that with the arrival of the Yokohama 048 as our control tyre for the Twin Spark Cup we thought that more new TS records would be set. However, the performance difference between the old Toyo R888 and the Yokos was not always as big as expected and different track conditions often eliminated the latter's potential advantage. Having said that, Tom Hill set new markers at Castle Combe, Rockingham and on the Snetterton 300. However, for me, an outstanding fastest lap was that set by James Ford at Oulton Park where he got within 0.341" of Paul Plant's long standing lap record there. Most of the Modified lap records held by Tim Lewis, Neil Smith and Adie Hawkins have remained unchallenged for some time but Barry McMahon brought his revitalised 156 Turbo to Rockingham and looped no less than 3.7" off the previous record held for several seasons by Roger Evans.
Mallory Park plum Pudding 2016
Dave Messenger recently competed in the Boxing Day meeting at Mallory Park. Below is his race report.
Having spectated at the annual Boxing Day Mallory Plum Pudding race meeting in 2015 we couldn't resist getting the 156 out to race in 2016. The event is a 'fun' race, with a 15 minute practice and two 15 minute races; all for the reasonable entry fee £125.00. There are two categories for the cars: saloon (tin top) and sports (open top) cars; each category having separate races. In addition to this, there are further races for motorbikes and motorbikes and side cars, resulting in a busy day's racing programme.
With the categories being so open in our race there was an assortment of cars: a Mini 7, Rover 25, Renault Clio Cups, VW Beatle, Audi TT (Space-frame), 4WD Fords and Subaru's. Clearly our 156 was going to be a little under powered here! Furthermore tyre choice was also free; we had some old/not now used Toyos against some of the competition using slicks!
A wet warm-up went well; other than the 4WD cars, we seemed to be holding are own. The grid would be determined by how early the BRSCC received your race entry; I was pleased to learn we would start 4th on the grid.
A dry Race 1. The start went well, exiting Gerard's in third place but was then mugged by several, considerably more powerful, cars on the Stebbe Straight. Once they had passed, a nice battle ensued with a couple of older Clio Cup cars and a Honda Integra. I couldn't stop the Integra passing but managed to open enough of a gap on the Clios to prevent them doing the same even when the Audi TT Space-frame tried sticking his nose in the inside of Devil's Elbow, resulting in a near spin.
Race 2 Grid would be a reverse grid for the cars which finished race 1, retirees would start at the back. We would start in 5th place. I had my reservations about this and expressed my concerns. I got a good start off the line and was in 1st place exiting Gerard's, with a Clio close behind. Only this time there was no fast cars in hot pursuit as the reverse grid had caused a melee behind resulting in several of the fast cars, and others, to leave the circuit and or suffer damage. Unfortunately for us after two laps leading, the race was red flagged and we were reassembled on the grid in our original start order. Everyone got round Gerard's incident free on the second start after a couple of laps most of the faster cars had got the better of me but the red flag came out again after Nickolas Barton rolled his new Golf exiting Devil's Elbow.
The car suffered extensive damage on its first outing but fortunately the driver came away unscathed – another testament to how well modern race cars are built.
Despite the early finish in race 2, our team enjoyed the day. The driver camaraderie was great, the Clio drivers were impressed with the performance of the 156 and refused to believe how heavy the car was and that it was a standard twin spark engine! The sound and speed of the motorcycle and side car racing was awesome – I need to have a go at that; I just need a passenger!
It was nice to see fellow Alfa drivers out there in support; thank you Matt Able, Keith/Tom Waite and family.
What better way to spend Boxing Day.
Alfa back to F1?
Fiat, Ferrari and Alfa "big boss" Sergio Marchionne keeps on referring the possibility of Alfa Romeo returning to Formula One properly, rather than just having stickers on the bodywork of current Ferrari race cars. And he did it again at the Ferrari Christmas party, although this time with a slightly different twist. While making the official announcement of 2016 GP2 runner-up Antonio Giovanazzi's appointment as Ferrari reserve driver, he talked about Alfa becoming a team that brought on young Italian talent. This fitted with the new Maranello line that the Ferrari team should become much more genuinely Italian than it has been in the recent past.
It should return to a time similar to that of Enzo Ferrari and Mauro Forghieri which brought success to Niki Lauda, Clay Regazzoni and Jacky Ickx. This is where Mattia Binotto, Ferrari's current technical supremo comes in, alongside team manager Maurizio Arrivabene. Marchionne says that Alfa are perfectly capable of building a chassis and setting up a team but would, like Haas, have to use re-branded Ferrari engines and gearboxes. It has to be said that Alfa's most recent foray into F1, building both engine and chassis between 1979 and 1985, did not bring much success even if we enjoyed them being there with drivers such as Mario Andretti, Bruno Giacomelli, Andrea de Cesaris and Riccardo Patrese.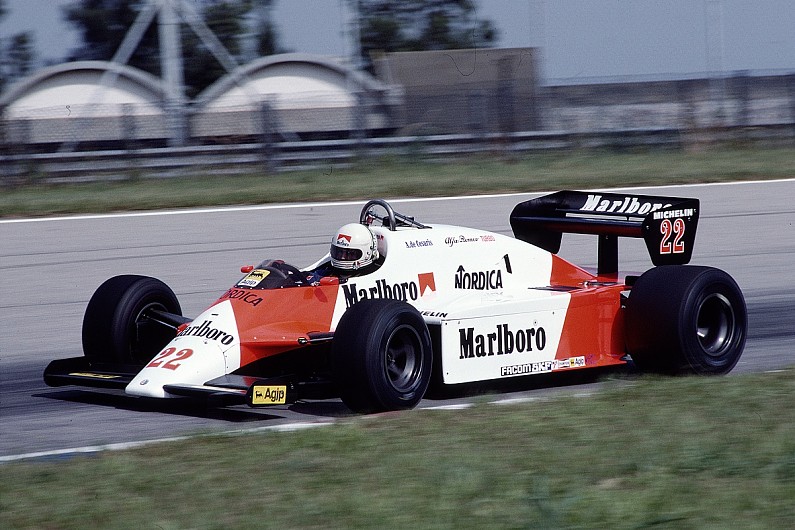 For a while it looked as though Alfa would return as engine suppliers. The period with Brabham had brought several wins but a new deal was forged with Ligier for the 1987 season using a 1.5 litre 4 cylinder turbo unit. Sadly, after testing the car at Imola not long before the start of the season,  Rene Arnoux made some very disparaging remarks about the engine's power and drivability which Alfa management felt brought the company into disrepute and the project was swiftly brought to an end. However, much of the decision may have been influenced by Alfa's change of ownership as it was now part of the Fiat Group.
TCR Giulietta at Macau
We haven't heard much about the Giulietta built by Romeo Ferraris for the TCR Championship. However, development of the car has continued and two were taken to Macau under the Mulsanne Racing banner, to be driven by Andrea Bellichi and Petr Fulin. Despite a persistent electrical problem, Bellichi took a 7th and a 9th place in a big field that was dominated by VW and Honda. The latest news is that the Giulietta will have a new Giulia based engine for 2017 (allowed under the regulations) which, hopefully, will make it even more competitive.
If you have any news in the lead up to the new season, please let us know via twitter, facebook or by emailing Matt Daly.