Silverstone Entries
We currently have 15 drivers (The same as your average F1 grid these days!) entered for rounds 1 & 2 including our first Power Trophy competitor. Ray Foley will compete in his 156 GTA while reigning 2014 Champion James Bishop returns in the Twin Spark Cup. A full list of entries can be found on the event page.
New registrations
Chris Snowdon (33), Ron Davidson (164), Jon Billingsley (147) & Tom Hill (156) add to the 2015 driver line up this week, bringing the total to 30 registered competitors.
Pre-season testing
A number of drivers have been testing in the lead up to Silverstone. Jeremy Chilton took his matt black and lime green TS Cup 156 to Snetterton for a shakedown and has now added a large Alfa badge on the side of the car. We certainly wont miss this one out on track.
Another stand out colour scheme seen testing recently is the 147 of Stacey Dennis. The bright pink and black TS Cup car had it's first run out with it's new owner at Brands Hatch on Thursday.
Richard Stevens also took his 145 out for a test run at a wet Oulton Park. The Cheshire Alfa backed car is another new addition to this years Twin Spark Cup.
New class decals
Last weekend we announced the new class identifying stickers for this season. They are currently being printed and we will do our best to get them sent out to drivers in time for Silverstone. We will also bring stock to the circuit. For more info on the stickers you need in 2015, please see the regulations page.
Motorsport Insurance
With the new season fast approaching, here is a handy guide to getting you and your race car insured in 2015 courtesy of Grove & Dean Motorsport. They offer a comprehensive range of insurance products and an unrivalled, personal service to their clients.
Goodwood Members Meeting
A quick note from Michael Lindsay:
I was talking to Chris Snowdon yesterday. He is racing his "Alpilatte" liveried GTV6 in the Gerry Marshall Trophy at this coming weekend's Goodwood Members Meeting, sharing the car this time with Nick Whale.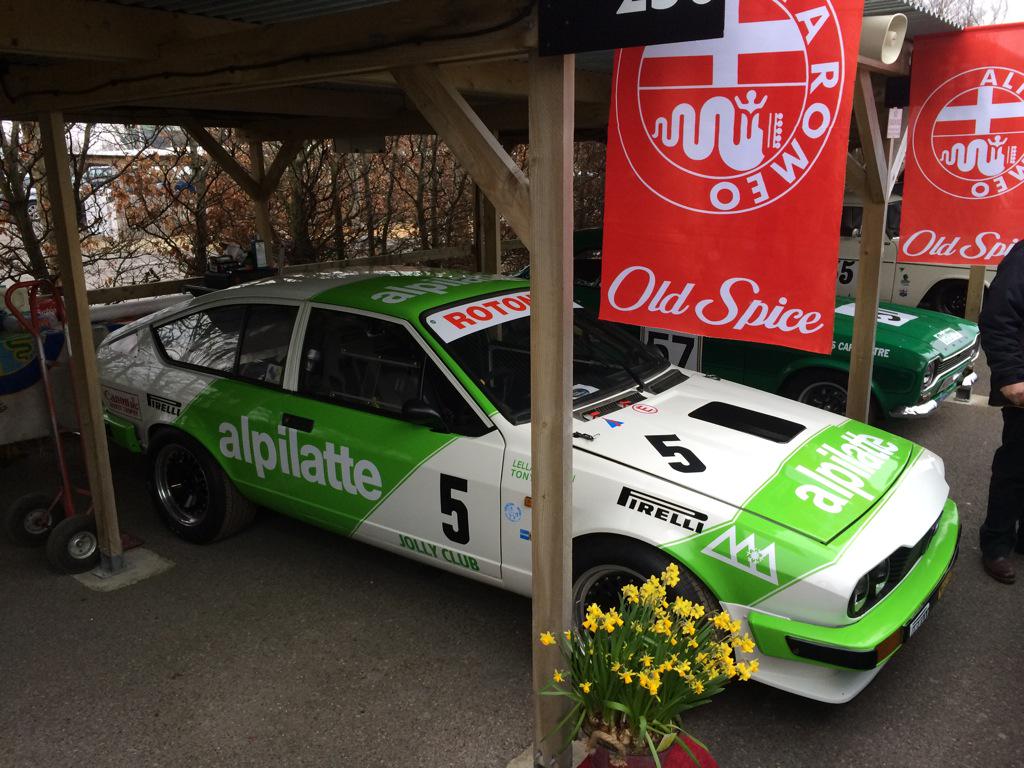 However, he also told me that Gavin Watson, who raced a GTV6 in the Championship with some success between 1994 & 1996 has bought 69 EXL, the Giulietta Ti that was made famous in the early 80s by Richard Ward and Stephen Barnett in Class Saloon events. The car was later driven by Jon Dooley and John Penfold. Chris has been preparing the car which will race in the Sopwith Cup.
Below is some highlights from last years' event. You'll also find the full race programme here.
 Want to feature in the Friday Fix? Please let us know via twitter, facebook or by emailing Matt Daly.