Piero Pesaro
We recently heard the sad news that Piero Pesaro, a regular and successful Alfa Championship contender between 1987 and 1997 had died on 9th November after being unwell for some time. Piero started his racing career with us in a GTV6 before passing on to the ex Roberto Giordanelli Junior Zagato (under the Alfetta Racing banner) and finally a 75 3 litre.
He was always an ebullient character around the paddock as well as on the track and I well remember standing at the new Dingle Dell after it was reshaped in 1988 at the start of one of our qualifying session. Piero arrived in my sight rushing across the new gravel trap having completely forgotten about the new configuration before narrowly avoiding the barrier and regaining the road. Clive Hodgkin recalls it well as he was just behind! Piero's most successful years were in 1988 (when he switched to the Junior Z) winning the Modified class and 1989 when he finished second to Mark Riddle. Our thoughts are with Piero's daughter Katia, who often accompanied him to races, and other members of the family.
Barry Ashman
Clerks of the Course are often the subject of criticism from competitors as they tread the fine line between fairness and seeming to be too harsh on the competitors who come before them. We were sorry, therefore, to hear last week of the death of one of the best of BRSCC's clerks of recent years, Barry Ashman. If you never received that post-race call, you may never have met Barry but he was always a great supporter of the Alfa Romeo championship and extremely helpful during my days as co-ordinator, not least on that dark day of the Kevin Griffiths accident at Mallory in 2002. A lot of his approach was undoubtedly helped by his own racing and rallying experiences in Minis and even a Lotus 18.
He was also much involved in the BRSCC's Midland Centre as both Treasurer and Chairman. Barry will be sorely missed, not least of course by his wife Rita – well known to us as a regular secretary of the meeting at BRSCC Midland Centre events and at TSL – and children Ian and Lucy. Many of you will have met Lucy at signing-on when we were at Donington in October. We send the family sincere condolences on the Championship's behalf. Barry's funeral will take place next Wednesday (9th December) at the Sutton Coldfield crematorium (11.30 a.m.) and Rita has asked that this is "a celebration of Barry's life, so please come suitably dressed. Racing, marshalling regalia etc will be welcomed".
TCR Giulietta Tests
It looks as though top tuning and race preparation team Romeo Ferraris, based in Opera, just outside Milan have taken over the mantle of n.Technology in  preparing race cars on behalf of Alfa Romeo. The latest project is a Giulietta for the burgeoning TCR series which is the brainchild of previous WTCC boss Marcello Lotti. TCR came about because of the ever increasing costs and manufacturer team domination in WTCC and is effectively a lower cost formula that will encourage independent teams. It also has a point in that its calendar includes the F1 support programme.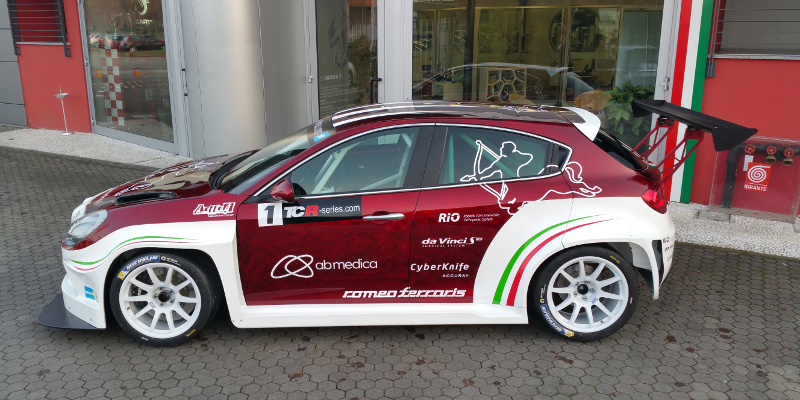 For some time, the Giulietta has been looked on as a possible model to compete in the TCR. Guidici Racing ran one in the German VLN series, mainly based at the Nurburgring but now Romeo Ferraris have a prototype running which tested for the first time yesterday on the Circuito San Martino del Lago, near Cremona. At the wheel were quick Italian lady racer Michela Cerruti and Salvatore Tavano, both reporting that the car which uses a version of the 1750 Turbo Giulietta engine mated to a 6 speed Sadev sequential gearbox gave them "a good feeling". "At the moment we are at the start of the development process" said Mario Ferraris "but hope to have reached the final set up by the beginning of March". The plan is to be build 10 cars for sale to potential TCR competitors at 98,000 euros each. We shall be watching this with considerable interest.
Special Awards
We forgot to mention the Special Awards made at the Dinner & Prize Giving back in November. They were as follows –
Preparers Award: Bianco Auto Developments
Best Placed Newcomer: Simon Cresswell
Runner up: Richard Stevens
Photographer of the Year: Keith Ford (for all his excellent prize giving pictures)
Champagne Moment: Dave Messenger and the Darnells/BSS/Solo Italia Team for their pit stop at Brands to replace a punctured tyre and get Dave back into the race to be classified and to take 6 valuable championship points in the process.
Well done to everyone!
ARCA at Autosport International
The Championship will definitely have a car on the BRSCC stand at Autosport International in January (14th to 17th) and at the moment it looks as though it will be the black and gold Twin Spark Cup 156 of Tom Hill. More details in due course.
If you'd like to feature in the Friday Fix, please let us know via twitter, facebook or by emailing Matt Daly.