Mandatory Eligibility Testing
This is just a quick reminder that at some point during the 2015 season, a compulsory rolling road test for Power Trophy and Twin Spark Cup cars will take place as part of regulation 4.7 (P & TS). Eligibility testing ensures all competitor's cars abide by the regulations for their particular class and gives the Championship a good understanding of the power produced by each car.
The championship will provide a rolling road in a designated garage during selected meetings where all competitors in P or TS classes are required to participate. Testing will cost £120 inc VAT per car which must be covered by the driver / team as stated in regulation 4.4.2 c.
This cost is significantly less than previous tests in which drivers were required to travel to a designated rolling road incurring additional fuel costs, missed working days plus the testing fee. The Championship see this solution as more cost effective for the competitor.
Further testing may be carried out during the season for cars that have not previously been tested
Dominic Ostrowski Appointed Competitions Manager
Following last week's news that Competitions Director Drew Furlong will be leaving the Club later this summer, the Board of the BRSCC has moved quickly to ensure that there will be no disruption to the Club's operations or levels of customer service.
Consequently, upon Drew's departure, Dominic Ostrowski, the BRSCC's current Head of Marketing & Communications, will take up the new post of Competitions Manager with a remit to oversee all the competition related activities of the BRSCC.
Commenting on the appointment Chairman Bernard Cottrell said:
"Dominic is an experienced member of our HQ staff who has worked with Drew very closely for many years so we are confident it will be a smooth transition. While we are naturally disappointed to see Drew go, we have a very strong team at HQ, so we see this very much as an opportunity and the start of an exciting new era".
Oulton Park Highlight
If you missed it during the week, we published the second in our series of highlights videos during 2015, this time from Oulton Park. It's hopefully gives a good idea of what went on and includes in-car footage and paddock music by Dave Messenger!
Alfa Challenge
Paul Plant and Ray Foley travelled to Magny Cours last weekend to compete in the European Alfa Challenge once again. Unfortunately it didn't go to well for either of them with Paul being ill during race 1 and breaking a drive shaft in race 2.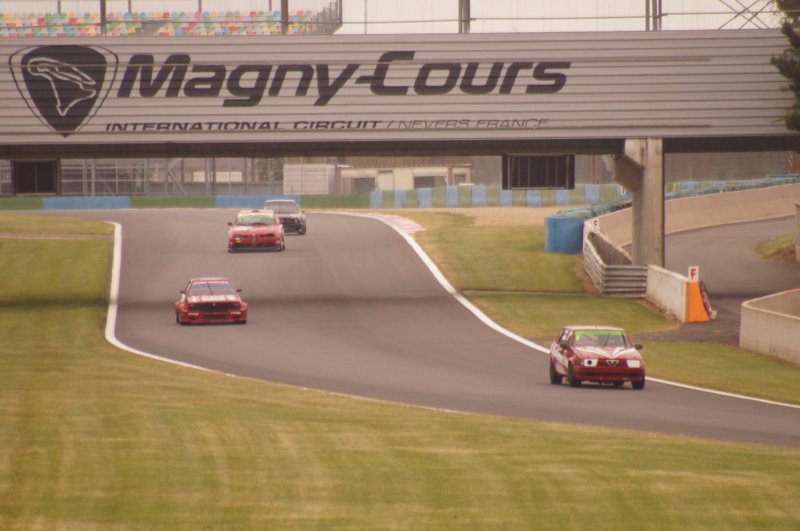 Ray's 156 suffered damage after contact with another car. Thankfully Ray was ok and we hope to see the car back at Snetterton later this month.
Concorso d'Eleganza Villa d'Este
The Concorso d'Eleganza Villa d'Este is perhaps the most significant of all events celebrating the mystique of historic cars. The grounds of the Grand Hotel Villa d'Este, one of the world's leading hotels, lapped by the waters of Lake Como, offers guests and visitors the chance to admire about 50 Historic Cars built between the twenties and the seventies, organised by different categories.
This years prestigious Best of Show prize was won by an Alfa Romeo 8C 2300 Zagato. The award is defined by an extraordinary automobile, which expresses beauty, passion and uniqueness.
BTCC Concepts
I found this BTCC concept artwork featuring a Giulietta & a 159 recently. Unfortunately I don't know the original artist's name but I'd love to see these come to life!
Wow, you've actually read this far! Thank You…
That's 49 Friday Fix's down! We're thinking of doing something a little bit different / special for #50. We're hoping to post some 'Golden Oldie' photos from that past 30+ years of the Championship. If you have any further ideas or suggestions, let us know in the comments below!
Want to feature in the Friday Fix? Please let us know via twitter, facebook or by emailing Matt Daly.